Valar Morghulis, Trailblazers! Are you comfortable and cozy in your Classic environment? Much like a not-to-be-named popular HBO show that just ended, Winter ('20) is coming….and with it comes a major change of Lightning proportions.
Beginning with this release, which will begin to roll out on October 12, 2019, Lightning will be the default option for every org.
If this sounds as scary to you as an army of White Walkers or a Dragon sacking your city, it doesn't have to be. With a little bit of planning and communication now, you and your team will be able to pull off a successful ending to your transition from Classic to Lightning, without the backlash and controversy our friends at HBO experienced with their ending.
No matter where you are in your Lightning adoption journey, Salesforce has created a roadmap to help you assess where you are in your Lightning journey and make the appropriate changes to your Salesforce Org to be ready for this launch.
Unexpected gaffes can be embarrassing, amirite?! A little planning will help keep the proverbial Starbucks cup from stinking up YOUR party
Discover Phase
This is the time to familiarize yourself with the features and benefits of Lightning, develop your training plan, and get your team and your Salesforce instance ready for this important implementation.
The first thing to do in this phase is to run the Lightning Experience Readiness check to see if your org needs some tweaking before making the transition. This video will show you how to run the readiness check.
After you check that everything's in order in your Salesforce instance, you can then jump into the Lightning Experience Change Management Hub where you can find recommended steps and templates to manage the human adoption aspects of the implementation. From here, you can log into the Lightning Experience Transition Assistant where you'll have access to best practices and resources for a successful transition.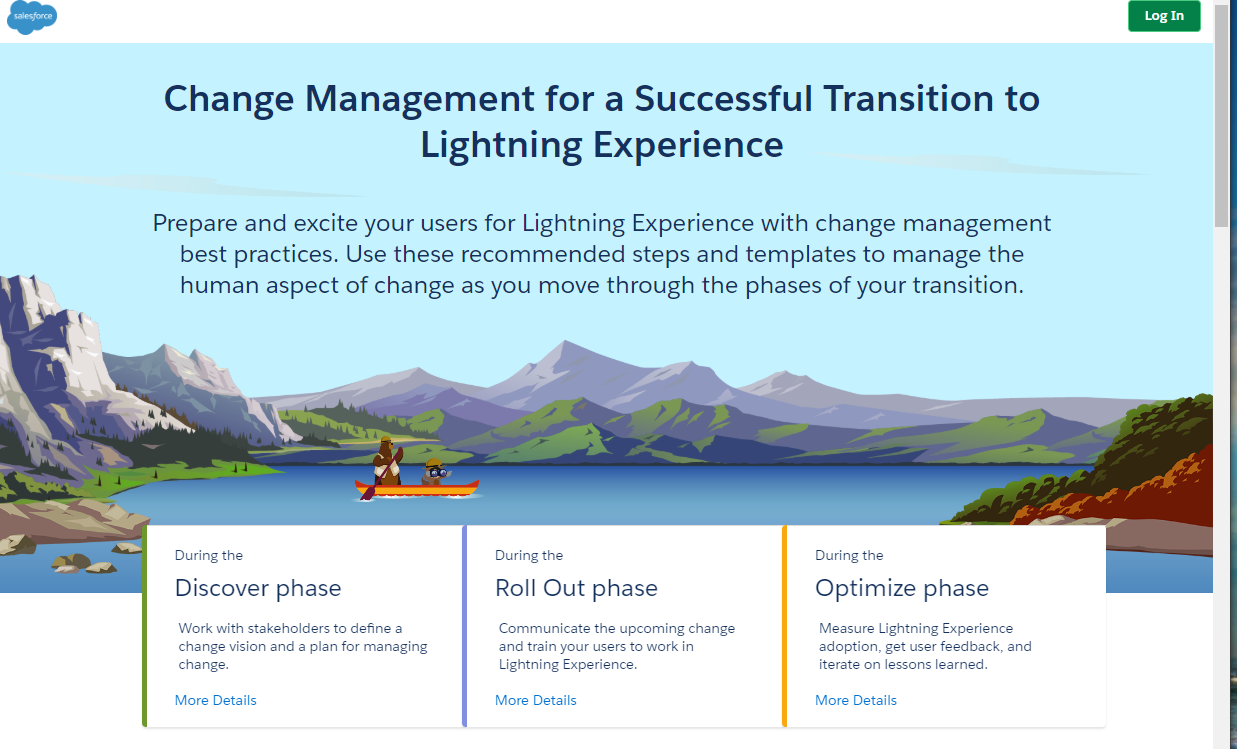 These checks will be important for organizations that still have legacy Classic use in certain parts of their org; they will help you identify the critical parts of your system that need to be addressed prior to default Lightning adoption.
Roll Out Phase
Adopting the right business processes and allowing you and your team time to test out new features is critical to any major Salesforce update.
It will come as no surprise that Salesforce has created a roadmap to chart nearly all aspects of Classic that convert to Lightning. That said, some features have been replaced or updated in ways that require additional oversight.
If you use JavaScript Buttons or Visualforce Pages, you should visit the Lightning Experience Configuration Converter to prepare some features in your org like AppExchange packages, hard-coded links, among others that may need your attention.
And to migrate attachments or classic notes, use the Magic Mover for Notes and Attachments app. This way you'll have your legacy content moved to Salesforce Files and enhanced Notes in Lightning Experience.
It is important to share with your users that Classic is not going away; they will still be able to switch back and forth and access familiar features. This default switch is a way to help those teams that might be resistant to change to transition to the new interface that will be the future of the platform.
Optimize Phase
After moving users to Lightning Experience you can boost their adoption of the new interface with two apps.
First, there's the Lightning Usage App. This lets you monitor Lightning Experience adoption metrics, helping you make more informed decisions. You can access it by using the App Launcher. You can find brief instructions by visiting this help page.
You can also run the Salesforce Optimizer get reports and recommendations for improvements on your features and implementation. Watch this quick video tutorial to know how to run Salesforce Optimizer and learn what you can do with it!
The Lightning Experience Learning Map is very intuitive and complete. You'll find all the information and resources you need to guide you and your team through your journey to Lightning Experience. It's very well-designed and should help ease any lingering fears of bad press online petitions to redo the last season a less than successful rollout.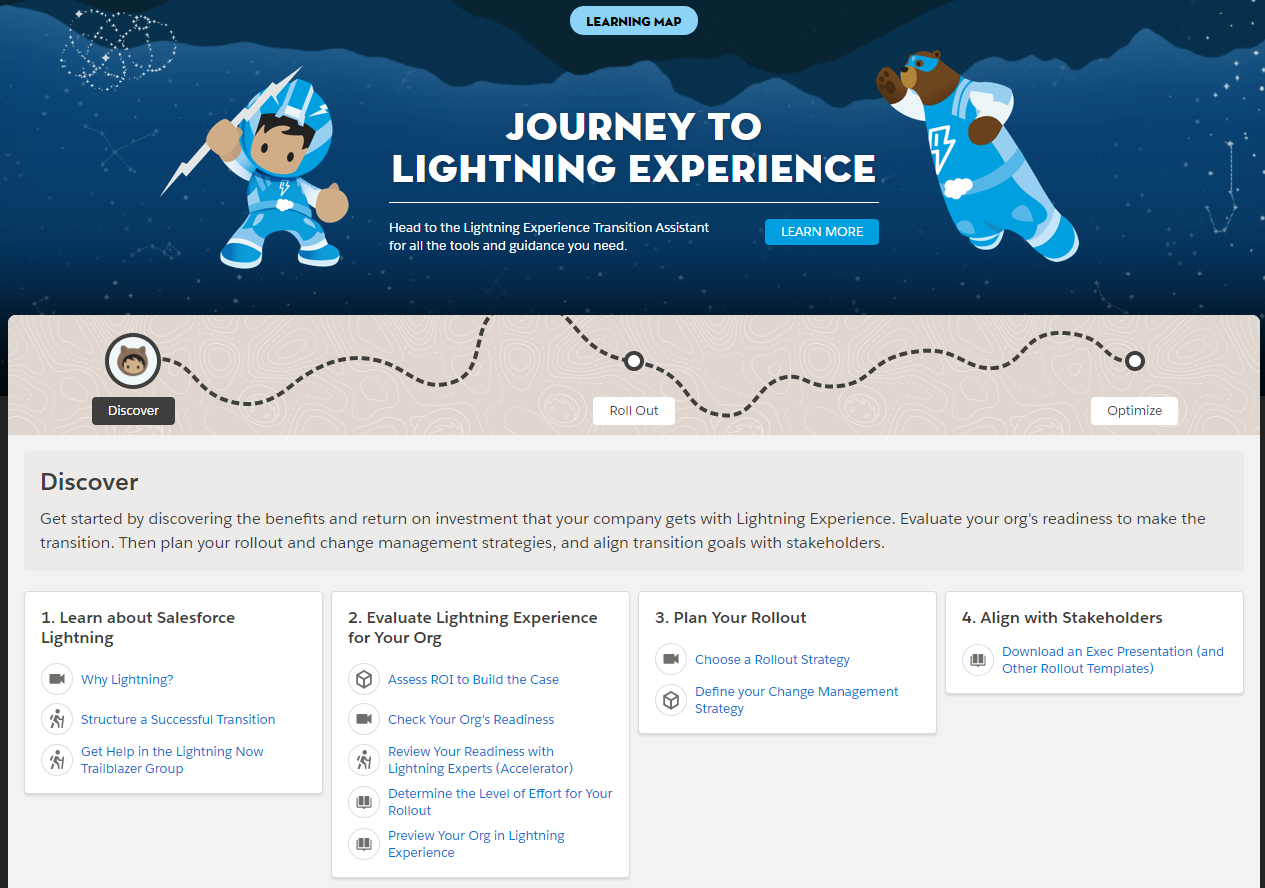 Not sure how to check the dates of your rollout? Follow these easy steps:
Visit trust.salesforce.com with your Salesforce Instance ID
Head to status.salesforce.com to view the rollout details
Select which product you're needing to check (Sales cloud? Marketing Cloud?-Pick your Product)
Click 'Maintenance' to see dates.


You can search by DATE (October 2019) or by SEARCH for your instance ID to check the rollout dates for your instance.
Want a PDF version of this blog post? Click here and download it.