There are dozens of Customer Relationship Management (CRM) tools for businesses to choose from, Salesforce and HubSpot being the most popular examples, but there are others like Freshsales, Pipedrive, Insightly, Zoho, Nimble, and so on.
It's not surprising that this large set of options exists since these systems can help you supercharge your business like nothing else. They function as an extra hand for your company by intelligently storing and managing customer and prospect information, helping your marketing team find new customers, and automating everyday tasks.
That being said, one drawback most CRMs have in common is that they can be quite pricey and complex tools, leaving smaller companies and freelancers behind, along with people with no experience in CRM. And that's where Copper comes in.

Formerly named ProsperWorks, Copper has been around for a few years now, and offers a nice set of features for a lower price. Well, we at Empirical tried it! So, here we highlight some of the features we think are worth mentioning:
Seamless G-Suit integration
The #1 feature Copper offers you is definitely its full integration with G-Suite.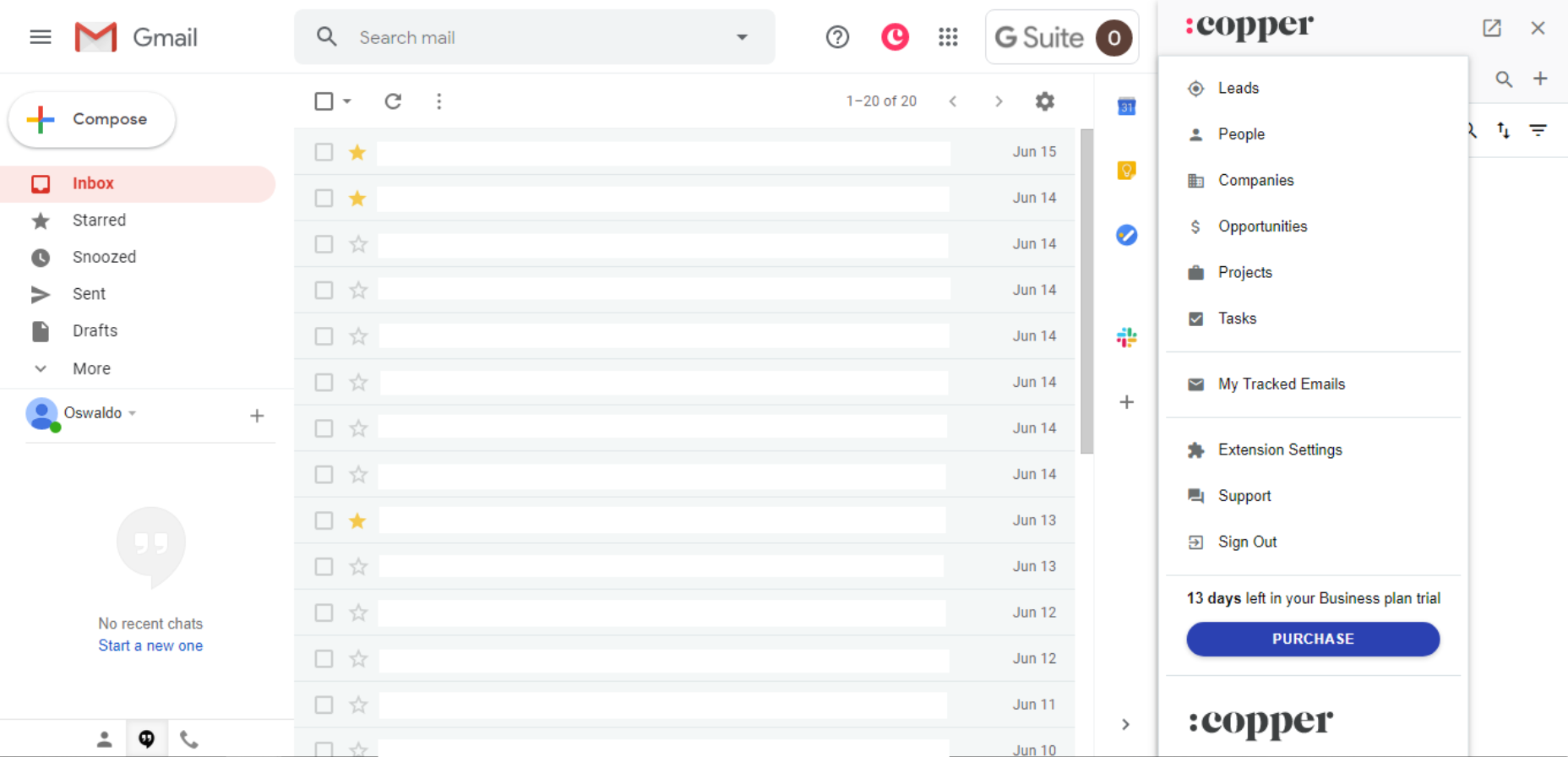 Copper sidebar in Gmail
As all your business-related conversations come through your email, it just makes sense to be able to add contacts, track sales opportunities and project revenue right from within Gmail, not ever needing to leave your inbox to update your CRM.
It uses your Google Calendar to manage tasks, add and sync contact information automatically in Google Contacts and even lets you build advanced reports and graphs in Google Sheets. So, we could easily say that Copper is the CRM for Google users.
User-friendly interface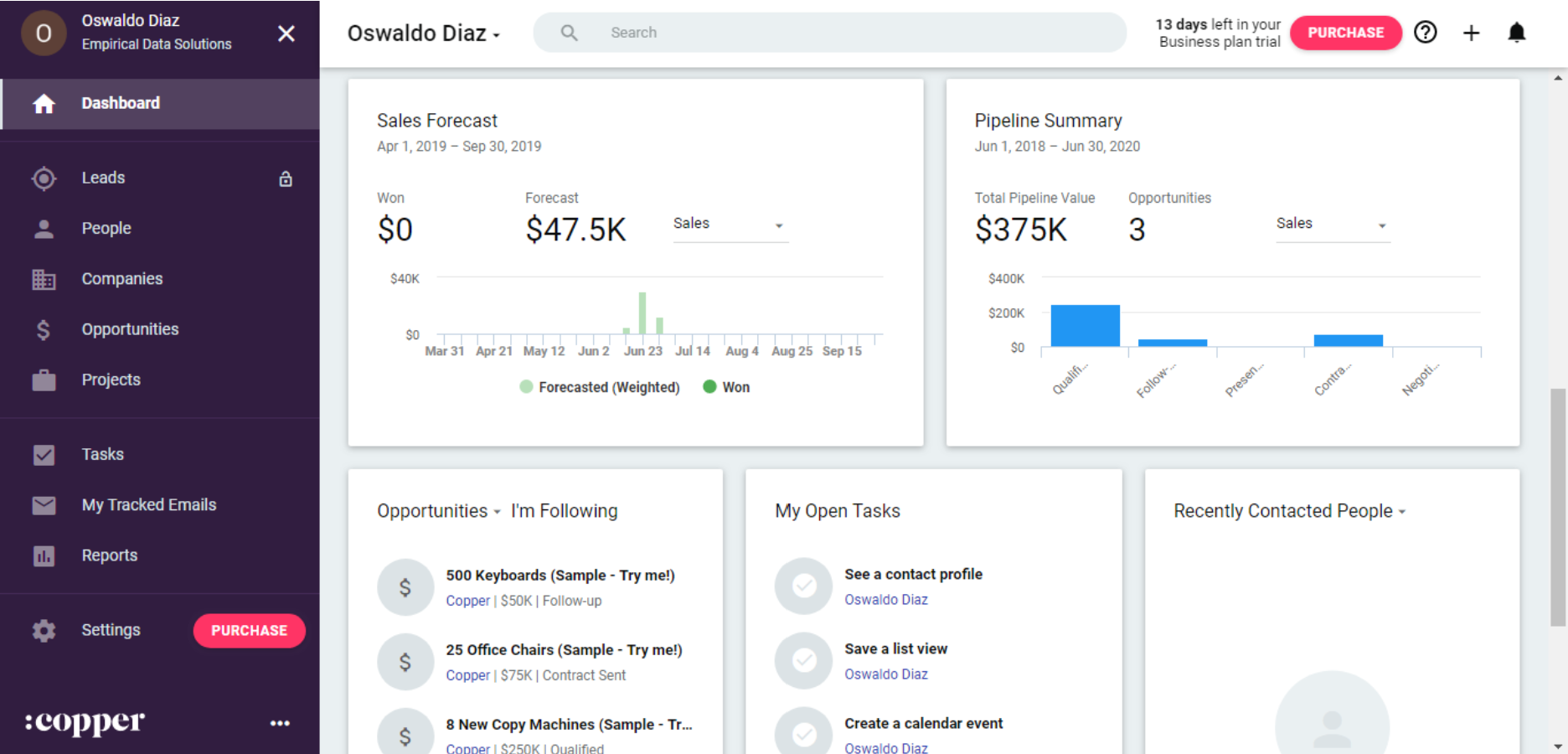 Copper dashboard
Copper integrates very well, not only with Google apps but also with Google's Material Design as well. This results in an interface based on cards and different layers of depth that is very pleasing on the eye and easy to understand for less experienced users.
This is the same design language that Google uses for all its apps. So, doubling down on "The CRM for Google users", if you manage your calendar, set your reminders, and email your customers all by using the G-Suite, you will feel like home the first time you see Copper's dashboard. Which takes us to the next point.
Short learning curve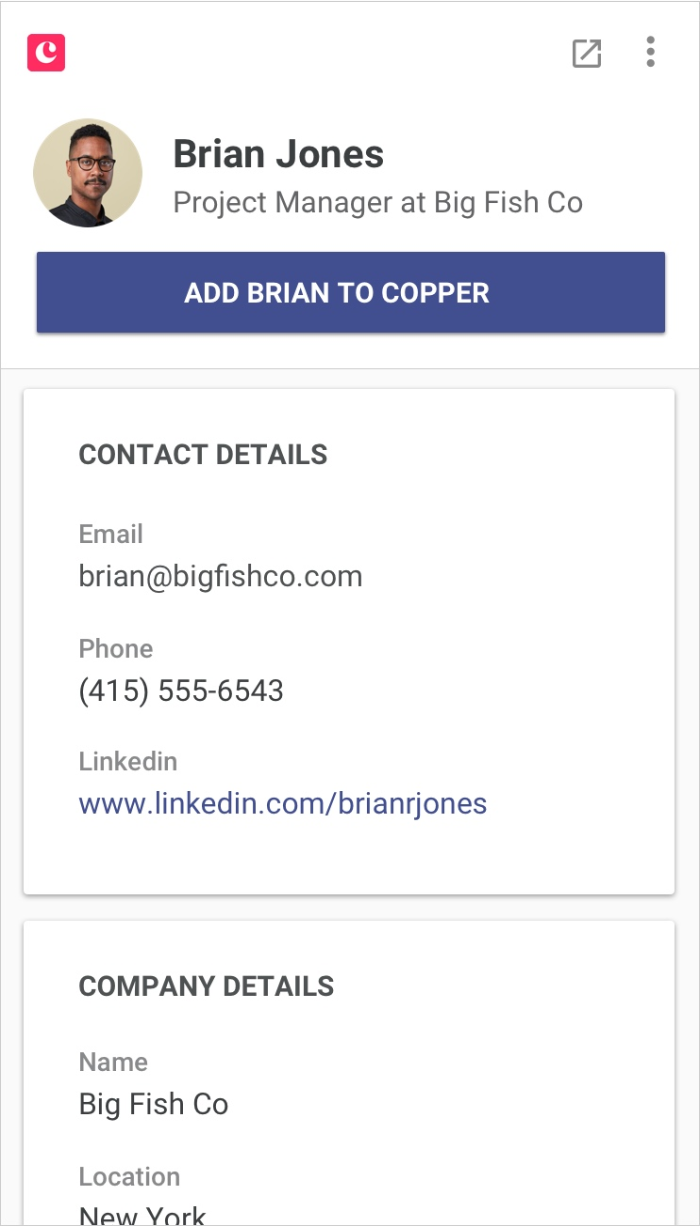 Copper's automated data entry
One advantage Copper has over its competitors is its ease-of-use. Almost everything is automated and there is no overwhelming number of tabs or actions to take.
You can basically forget about data entry on new customers because Copper does it for you just as you open an email. You just need to decide whether you want to add people as a contact or not.
Copper also automatically finds new opportunities, schedule your tasks to your calendar and set reminders for you to know when to take the next step on those sales.
This simplicity helps businesses save time and money on training new employees since they can focus more on doing and less on learning.
An easy to customize pipeline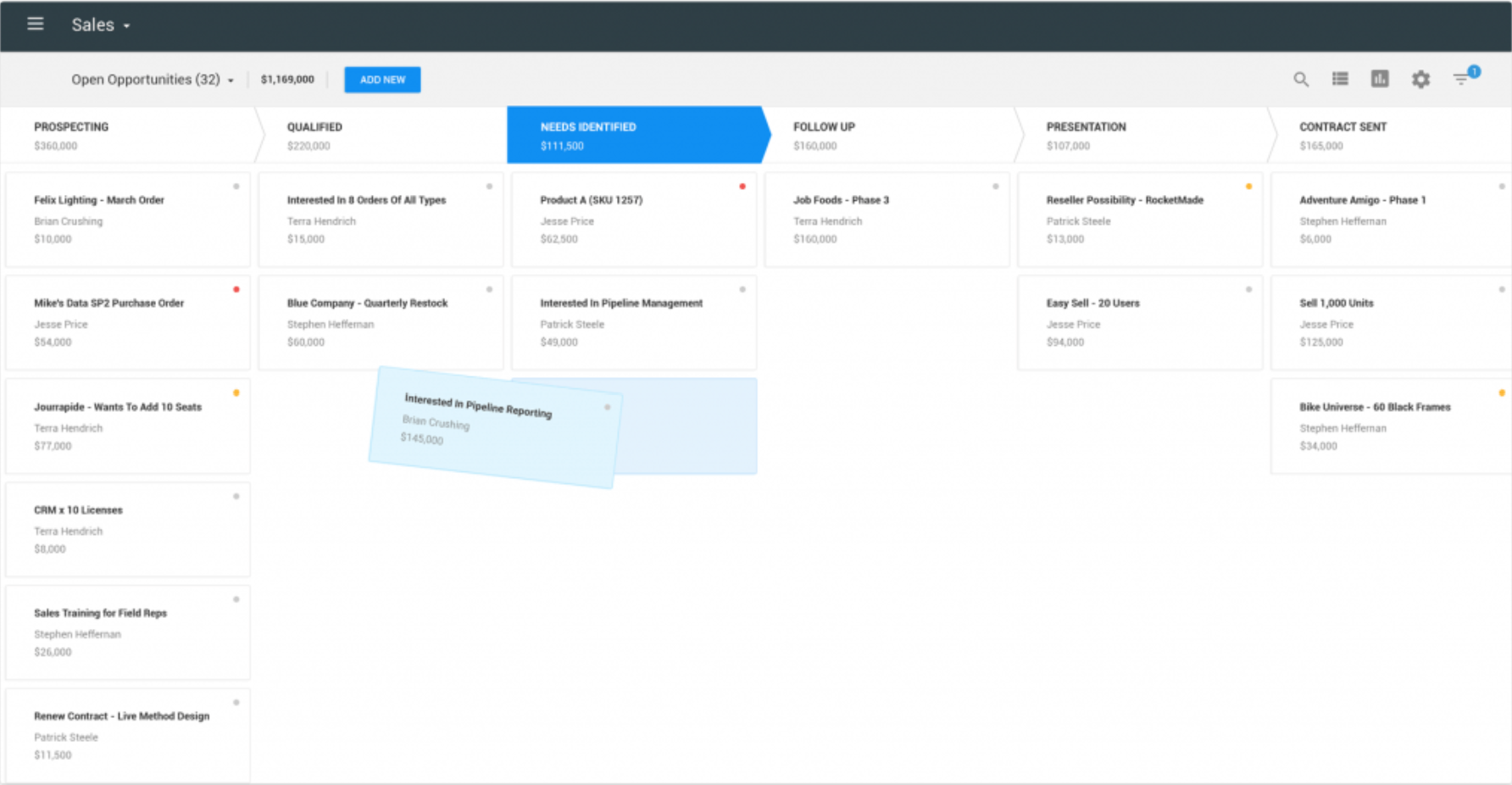 Copper pipeline
Copper allows you to have multiple customizable pipelines. They are very easy to manage due to their drag and drop functionality. It features simple visuals for you to better administer your sales process with ease.
It also gives you hints on the next steps to take by putting little colored dots so you know which opportunity has an upcoming or overdue task. This helps sales teams by saving them time, allowing them to be more productive.
Price
Although the other features we mentioned before are definitely worth considering, other CRM alternatives can do the same things, and in similar ways.
The feature that really overshadows the competition is its price. Apart from being a cheaper option than Salesforce and HubSpot, starting at 19$/month per user, it is also monthly-billed instead of annually, which makes it a better option for smaller teams and start-ups. Also, you won't see any of those add-on fees attached to it, as you'll find in some other CRM tools.
Be advised: Some advanced options may be lacking
Even though Copper is much less complicated in terms of implementation and maintenance, it lacks deep customization ability and sheer size compared to other alternatives like Salesforce Lightning and HubSpot.
Keep in mind that Copper is aimed mainly at small businesses and even freelancers, which makes it hard to recommend to larger companies that may need QuickBooks and XERO integration, for example.
Conclusion
Copper is an amazing CRM platform that includes many of the core functions most small teams need to run their business. The learning curve is almost nonexistent and the data entry automation is a handy feature to have. Also, the ability to manage everything from your inbox, and the G-Suite integration makes it the best option for businesses that leverage heavily on Google services.
Although you may want to go for a free 15-day trial first and play around with it before making a purchase, so you can see what it offers and how well it works for you. That way you will know if this is a valuable acquisition for your business.
FAQ
In case you have trouble deciding to give Copper a shot, we have made a small FAQ for your comfort:
Q: How do I record notes on Copper?
A: You cannot record random notes on Copper but you can take notes in your opportunities and have them attached to them. On the 'Opportunities' tab, you click on an individual opportunity and you will see details on the right-hand sidebar. Then click on 'Activity', and then on 'Create Note' to attach a note to an opportunity.
Q: What are some keyboard shortcuts I could use?
A: You can see that in Copper's official FAQ.
Q: Is it possible to use Copper's Gmail functionality with browsers other than Chrome?
A: Copper's Google Chrome's extension is better in terms of functionality, but there is an Add-on that you can use in any browser.
Q: How do I use the email tracking functionality?
A: First you need to sync Copper with Gmail by clicking 'Connect to Gmail' on the Dashboard screen the first time you sing in. Then activate the 'Send and reply from Copper' email preference.
If your question was not answered in our short FAQ, we recommend you to go to Copper's help center.
Want a PDF version of this blog post? Click here to download it.
---
References
Wyman, L. (2017, September 7). "Which CRM is Right for You? Comparing Apptivo, Base, bpm'online, Insightly, and Copper.'' Technology Advice [Online image]. Retrieved from https://technologyadvice.com/blog/sales/which-crm-is-right-for-you-comparing-apptivo-base-bpmonline-insightly-and-prosperworks/
D'Angelo, M. (2019, Jun 20). Copper Review. Retrieved from https://www.business.com/reviews/copper/
Marks, G. (2018, Jul 26). On CRM: ProsperWorks CRM Is Now Copper...But That's Not What's Most Important. Retrieved from https://www.forbes.com/sites/quickerbettertech/2018/07/26/on-crm-prosperworks-crm-is-now-copper-but-thats-not-whats-most-important/#4b979732ec35