Sales cadences have become almost an integral part of every sales strategy for large volume outreach. This is because it allows businesses for better control over all the interactions with customers as well as planning and improving sales engagement sequences for better outcomes.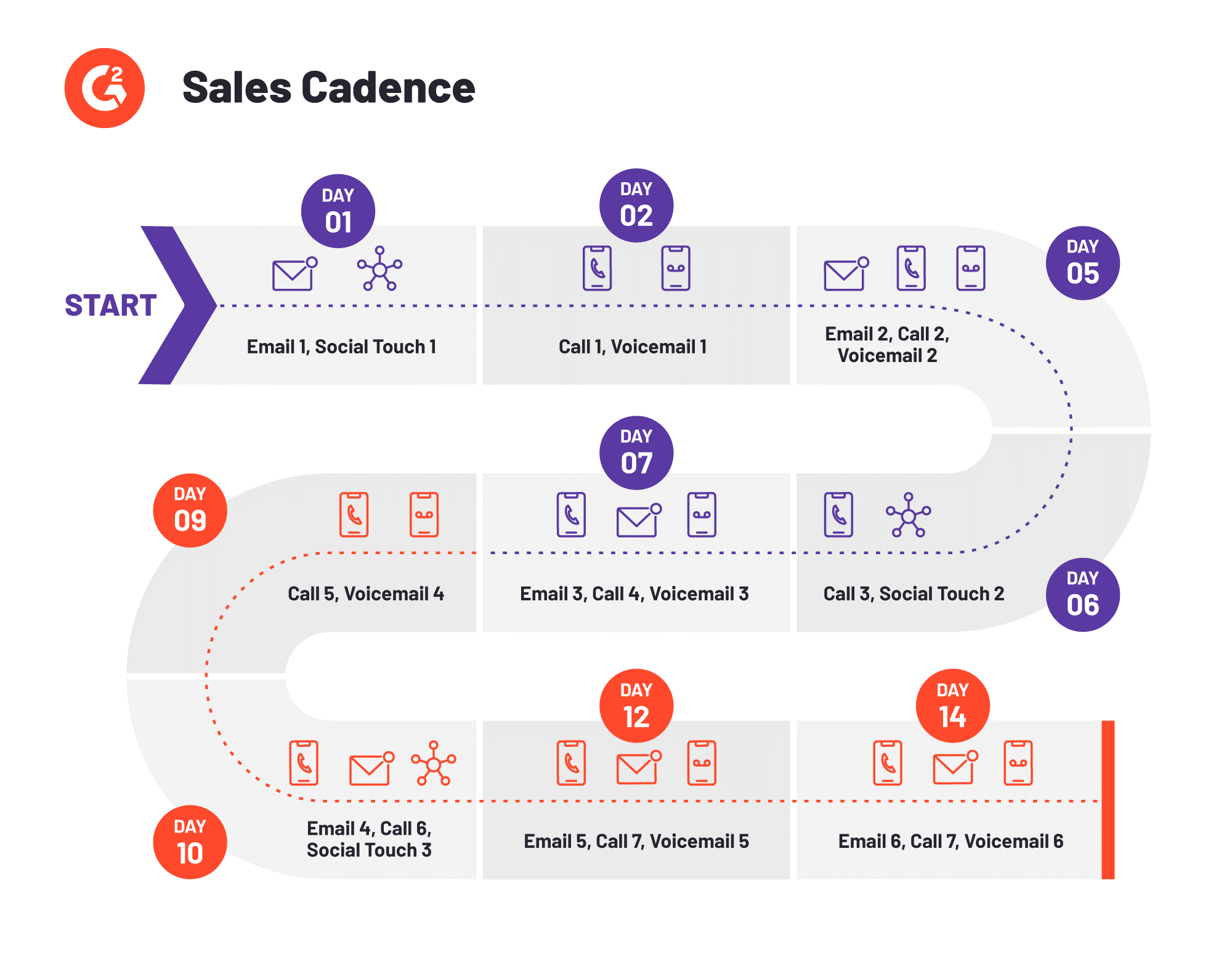 Sales cadence illustrated. Source: G2
The problem is that managing sales cadences for a large volume of leads can be extremely hard if you don't have the right tools for it, so businesses need the best sales engagement tool out there that can allow their teams to achieve maximum potential.
The first one that comes to mind is SalesLoft. This is no surprise since they have been in the business since 2011 and they have been leading for quite a while.
Another one that has gained popularity in the last few years is Salesforce's take on sales engagement, High Velocity Sales. Salesforce has been the leader in CRM software for years, so when they decided to enter the sales engagement market, they quickly became popular since many of businesses looking for a solution to manage their sales cadences were already using Salesforce.
Still, these two competitors are so similar in terms of capabilities and features that it is hard to know which one to choose. That's why we at Empirical have decided this quick comparison to help you decide which one is better for you:

SalesLoft
SalesLoft is the leader sales engagement platform focused on cadence and automation. Their goal is to increase customer engagement with easy-to-set sales cadence sequences and the right analytics to help you get the most out of them. Let's take a look at its core features:
SalesLoft key features
Add tags to cadences to label them into particular buckets. You can then filter the cadence to see (and compare) the cadences that contain that tag.
Automatically remove prospects based on rules like a customer not opening an email, or if the email bounces.
You can add stages to your prospects based on which step of the cadence they are.
Stages are easy to set, with three main options: Email, Phone, and "Other", and three other options integrated with Zipwhip (a business text message software), Sendoso (to integrate with Sendoso's sales cadences), and LinkedIn Sales Navigator.
Email templates with dynamic fields for First Name, Title, Company, etc., for personalized outreach.
Automate email outreach at a specific date or after a time delay from the previous step.
Decide whether to create an email template for a step for reps to customize and send OR set the step to send the email automatically.
Conversation Intelligence lets you analyze your calls with live annotations, record calls and add timestamps with tags to highlight key moments for better insights.
Robust insights like which cadences produced the most booked meetings, how many touches it takes to get a response, which email templates have the most success, best time to call customers, what your best reps are doing differently, among others.
Key advantages
SalesLoft is a sales engagement platform that can also be used as a CRM software depending on your business needs, but it is not designed to be used as such. This is not a bad thing though, since this means SalesLoft is a solution focused exclusively on sales engagement that you can then connect to your dedicated CRM platform.
Furthermore, SalesLoft is easy to understand and use. Sales cadences are a few clicks away and the analytics are easily accessible and can be created and customized in a pinch thanks to its intuitive user interface. Most companies won't need to hire any consultants to teach their team how to manage the tool, unlike competitors like Salesforce's alternative.
Pricing
SalesLoft's pricing model is quotation based. They provide a custom pricing for their software, and does not have a free plan. Check their official website for more details.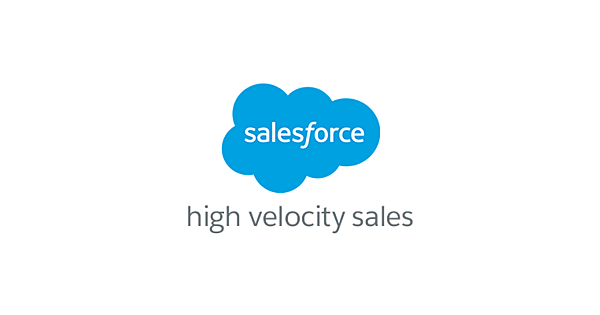 Salesforce High Velocity Sales
High Velocity Sales is a Salesforce app that lives within the Salesforce's Sales Console. It is designed to help with mass outreach or large volume outreach for marketing or sales and manage general organizational resources. Take a look at its key features:
High Velocity Sales key features
Split view to see useful components at a glance.
Work view to see prioritized lists of emails and other tasks.
Prospects change stages based on which step of the cadence they are.
Einstein Lead Scoring helps you understand the relevancy of your customers and filter out the best ones to maximize your deal-winning possibilities.
Activities in sales cadences automatically appear when they are due.
Track prospect activity within the sales cadence like email engagement details like which prospects have been opened and when, as well as other interactions with prospects.
Receive notifications when a customer has opened an email.
Email templates with dynamic fields for more personal emails.
Automate steps like sending emails at a particular date or a defined amount of time after the previous step.
Engagement activity is automatically associated with their respective sales records, so no need to worry about manually login activities.
Users can launch Salesforce Dialer which can automatically display call scripts for the sales reps.
Email integration with Outlook or Gmail to access the work queue from the sidebar of your inbox.
Einstein Call Coaching uses Natural Language Processing to look for relevant keywords in your calls, and create dashboards to display relevant insights in your sales calls.
Einstein Analytics gives you insights like average time to first touch, average number of touches per prospect, which touches are having the best performance, cadence effectiveness and completion, among many others.
Key advantages
High Velocity Sales is a Salesforce app that is designed for Salesforce users looking for a sales engagement tool. This means that you won't need to transfer data between Salesforce and your dedicated sales engagement solution, which allows for a seamless experience for your users.
Your reps won't have to be juggling between dozens of tabs, and since there are no data transfers to do, there are no import/export errors to deal with like duplicated leads being created, which makes troubleshooting any issues much simpler as well.
On top of that, Salesforce users will feel right at home since the user interface is the same and High Velocity Sales is built into the Sales console so it inherits the same reporting capabilities.
Pricing
Salesforce High Velocity Sales comes at 75$/user/month requiring an annual contract. It is the only edition available at the time and it comes with all the features mentioned above. There is no free trial.
Summary comparison
The main difference between these two solutions is that SalesLoft is the most focused option for sales engagement while High Velocity Sales is more integral to Salesforce CRM.
High Velocity Sales is a pretty good option for those already using Salesforce, especially if you're already familiar with the tool. The process should be simpler since users won't have to learn to use another tool just for sales engagement. Also, you won't need to move data between platforms since HVS works within Salesforce itself, just as another app.
On the other hand, SalesLoft's intuitive interface allows it to be simple to set up and use even for inexperienced users. This is because SalesLoft is focused on sales engagement, making it less distracting and more straightforward. SalesLoft's integration with Salesforce is still pretty robust and easy to setup, but it is another step you have to take if you take the SalesLoft route when you're using a dedicated CRM platform.
We hope this article helps you make the best decision for your company. If you need more help feel free to book a time with one of our specialists. We are always happy to serve!
Click here to download the PDF version of this blog!