Social media has become the #1 place for companies to build their brands, finding new customers, promoting their products and services, and even providing customer service through direct messaging. It figures: this Digital 2020 report, shows that 3.8 billion people are using social media all over the world. That is around 60% of the world's population.
This is enough of an incentive for businesses to find new ways to take full advantage of their social media channels, and with the last developments in artificial intelligence and natural language processing, a new player came into the game: Social Listening.
Social listening helps you understand what kind of content your customers actually want by keeping track of mentions, conversations and reactions about your brand and products in social media. It uses an AI technique called Sentiment Analysis (or Emotion AI) to analyze what people are saying about your text in customers' comments, providing you with the insights your marketing, sales and service teams need to give their best performance, while also helping you monitor your brand's sentiment across your social channels.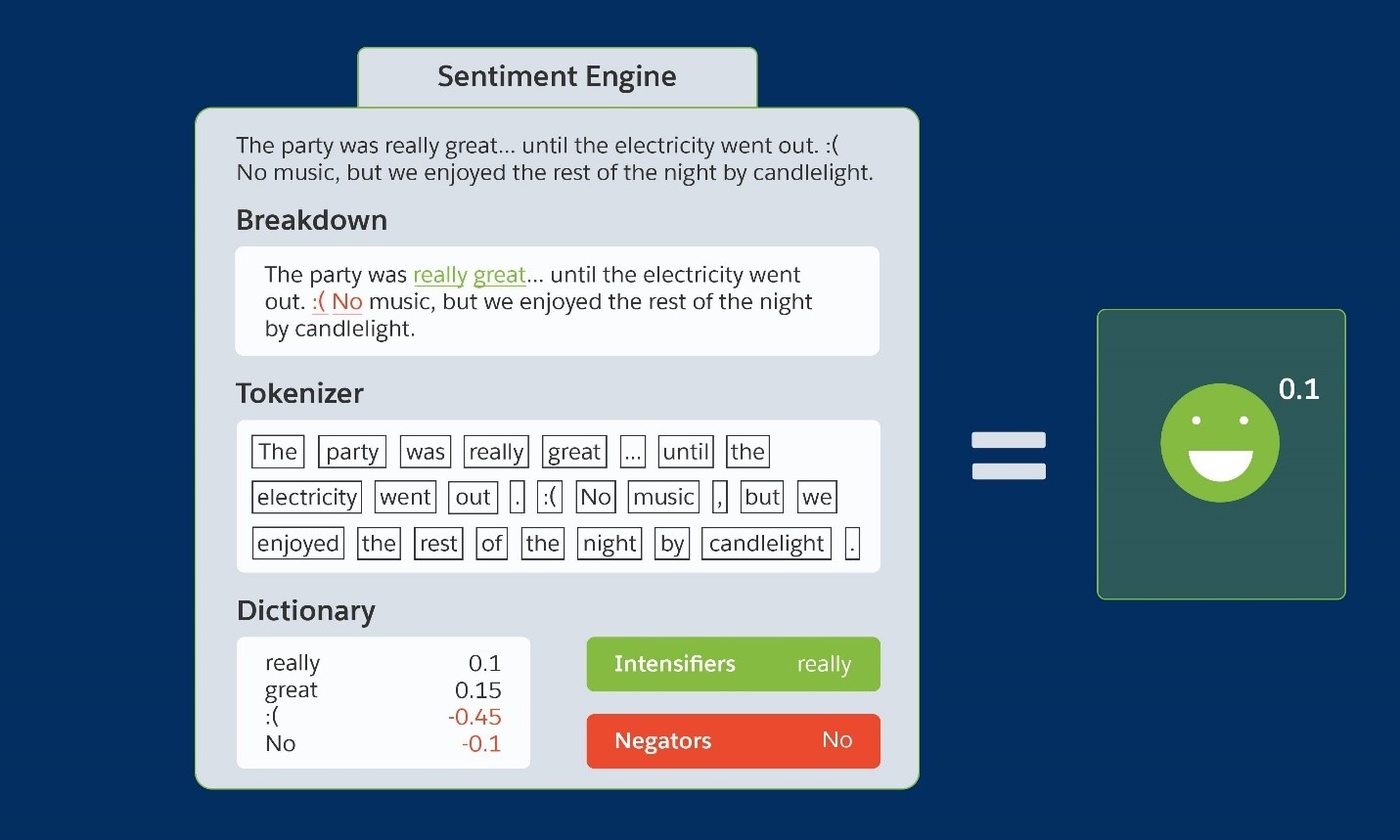 Sentiment Engine. Source: Salesforce Trailhead
Check out our blog on sentiment analysis to learn more about its best use cases in marketing and consumer research.
All that said, one social listening tool that has really caught our attention at Empirical is Salesforce Social Studio. This product lives under Salesforce Marketing Cloud and it is a tool that has proven itself to be special among so many others for its customizability, extended functionality—it also serves as a social media management tool—and full integration with Salesforce CRM.
Similar options like Hootsuite or Sprout Social don't offer the level of customizability and power features that Social Studio offers, apart from its deep integration with Salesforce.
In order to understand what makes this tool unique, we need to understand the three pillars of Social Studio: Analyze, Publish, Engage.
1 Analyze
Social media produces so much information that it is hard to track. With Social Studio you'll have access to a scoring algorithm that processes posts to determine the overall sentiment. This sentiment model is adjustable so you can more accurately monitor and report on post sentiment.
You can also create topic profiles for monitoring the discussions in your brand's social accounts and broader conversations. These topic profiles collect and group social posts across the web and are used throughout your social products. These are built using keyword groups, filters (languages, media types and regions), and source groups (RSS feeds, Twitter handles, URLs).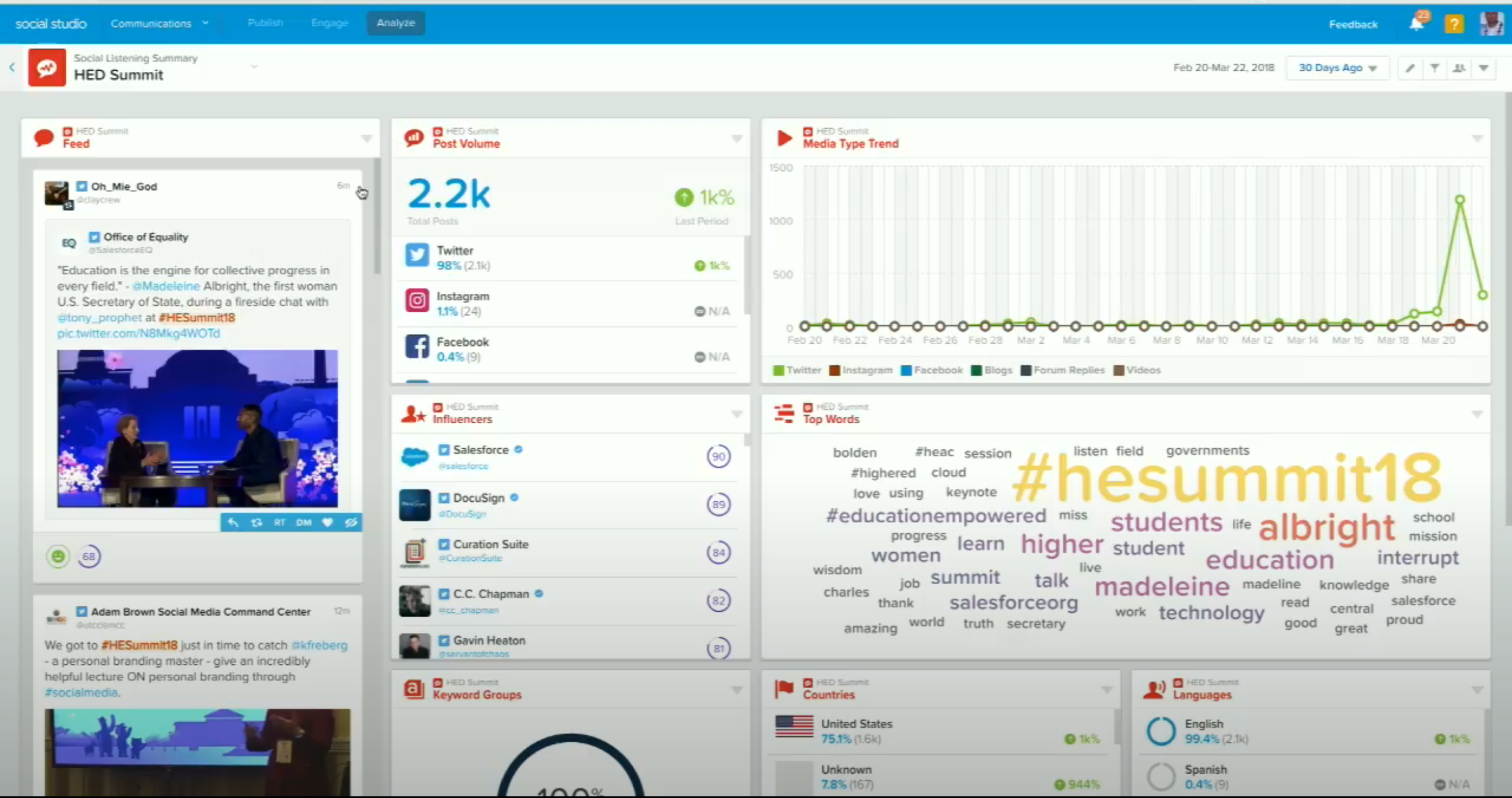 Social Studio Analyze Dashboard. Source: Salesforce.org
From the Social Studio Analyze Dashboard, you can look at live social feed from your brand's posts or any specific branded hashtag that you create for some of your campaigns, your channel's direct messages, the most used keywords and most mentioned terms, track influencers' activity so you can better engage with them, and much more. You can also click on any of those dashboards to see more specific information, like clicking on a keyword and see a list of comments with that specific keyword.
You can look at sentiment trends and track where that sentiment is coming from. Given that certain keywords like the word "sick" can have different meaning depending on the context, you'll be able to customize and adapt sentiment keywords specific to your business, so you'll have full control of how you're tracking them.
You can also create customized dashboards and reports depending on your needs like tracking sentiment in specific demographics and use that information to plan you next strategy.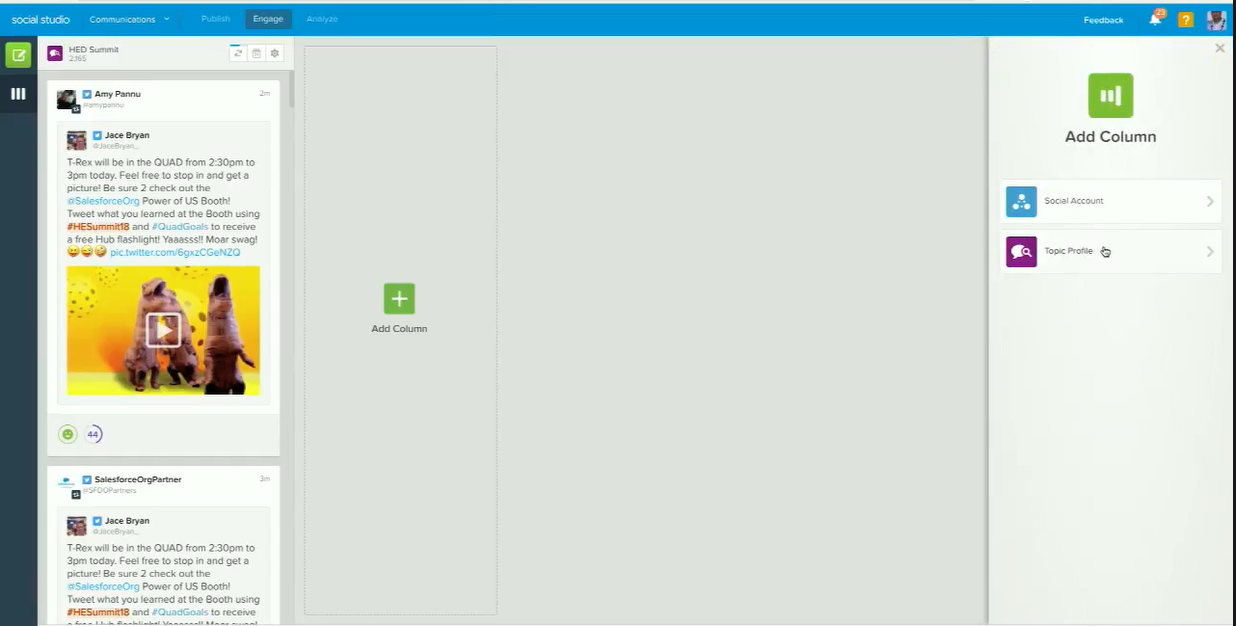 Creating a customized Social Studio Dashboard. Source: Salesforce.org
Apart from by text sentiment analysis, Social Studio can also classify images with Einstein Vision. It automatically classifies upcoming images by logo, scene, food, and object. Providing you with even more information on what's being discussed about your brand.
With these Social Studio Analyze features, your team will have all the insights they need to create more engaging content. And that's where the Publish tab comes into play.
2 Publish
From the Publish tab, you can plan all you content in the calendar view, filter by account or status of your posts, leave notes and open discussions with other team members. You can also see future and past posts and monitor their performance.
Publish your posts directly or schedule content across different platforms. You can attach images and other multimedia to your posts a well.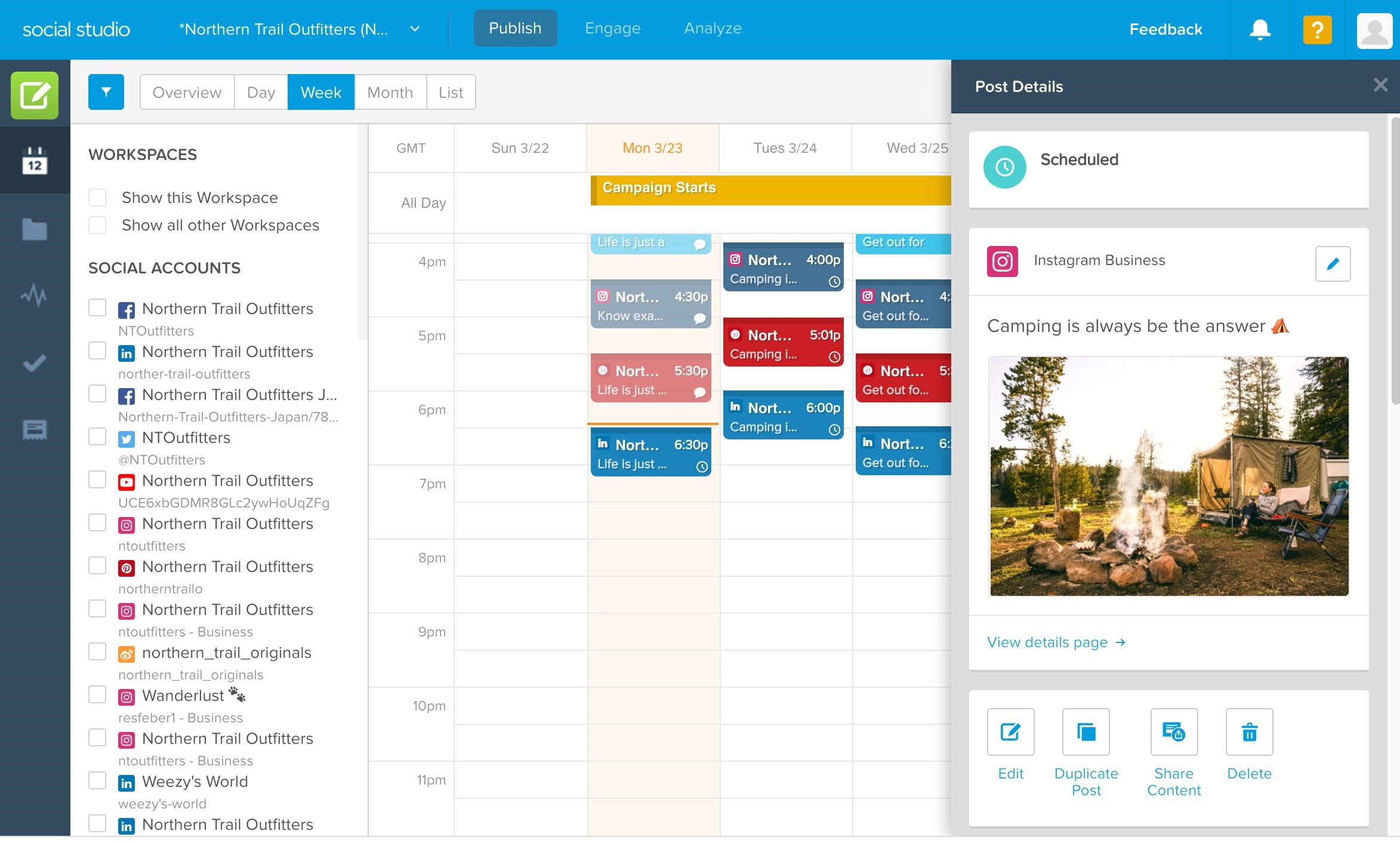 Content calendar in Social Studio. Source: Trailhead.
You can set customized approval rules to protect your brand's integrity and ensure consistent voice. Approvers get push notifications as new content gets submitted for them.
Create and configure workspaces, organize teams by region, brand, business function. You can use these workspaces to promote collaboration for campaigns, content creation, and publishing.
Analyze and Publish features make a great combination by themselves, but they would not be complete without the final pillar:
3 Engage
Social Studio allows you to be proactive and interact with your customers in your social media channels. Respond to customer's comments in your posts, interact with influencers or posts using one of your branded hashtags.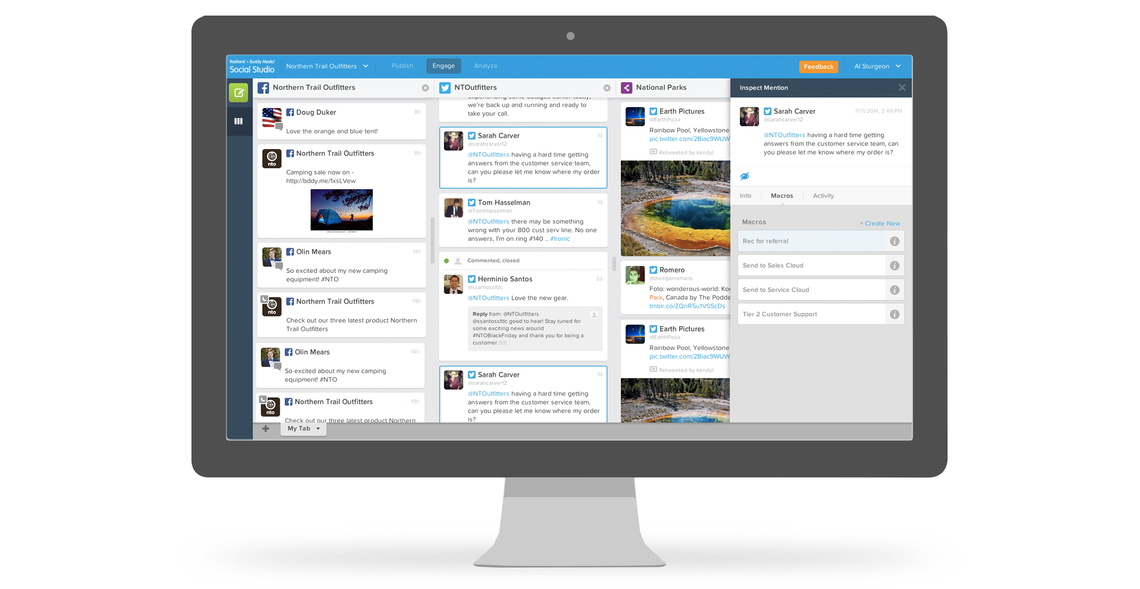 Engage dashboard in Social Studio. Source: Silver Softworks.
You can connect to your Service Cloud account and create a lead in Salesforce based on a comment from a potential customer, send them to Salesforce and create a case so your team can follow-up with that individual, for example.
Moderate and join conversations in your posts. Use classification and workflow controls to manage any scale of social engagement, enabling more complex use cases such as social customer service and lead generation.
These three pillars combined make Social Studio the most powerful and customizable social media listening and management solution out there, providing all the best features that most companies need to take full advantage of their social media channels and offer the best customer experience possible.
Price
Social studio is designed for enterprise-level businesses and it's priced accordingly. The basic plan starts at 1,000/org/month, and that's just listening and engagement features. Click here to compare prices and features of every edition of Social Studio.
Those prices might be out of reach for small businesses, but there are some similar features offered in Salesforce.org programs like Interaction Studio and Audience Studio that might worth taking a look.
Salesforce.org are a number of programs that offered by Salesforce to nonprofits and educational institutions. We wrote an article explaining Salesforce.org programs in detail, as well as how to apply. Click here to check it out.
If you're interested in Salesforce Social Studio or some other more affordable solution, book a time with us and we'll give you the guidance you need.
Want a PDF version of this blog post? Click here to download it!
---
References